So today we have another example of Twitter's hypocrisy and double standards. Here's what happened:
It appears Twitter has removed coronavirus tweets from @RudyGiuliani and @charliekirk11 for violating the platform's rules https://t.co/lsChVM9CQm

— Oliver Darcy (@oliverdarcy) March 28, 2020
Twitter spox confirms to me that both @RudyGiuliani and @charliekirk11's accounts were "temporarily locked for violating the Twitter Rules regarding COVID-19 misinformation."

— Oliver Darcy (@oliverdarcy) March 28, 2020
Here's the tweet: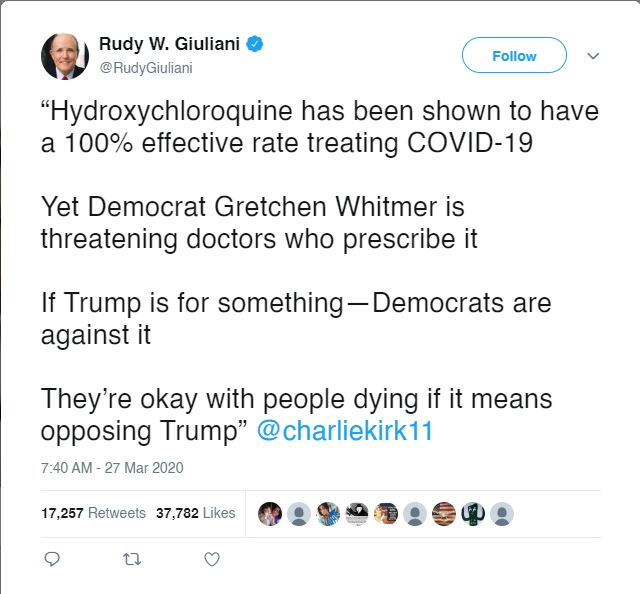 Now look, I'm defending Kirk or Giuliani, it seems to me that is kinda stupid propaganda that is just false.
Fact: those are not facts. Kirk and Giuliani appear to be riffing on an article posted by conspiracy blogger Jim Hoft of Gateway Pundit, and which falsely claims that:

"Hydroxychloroquine is safe and in at least three international tests was found 100% effective in treating the coronavirus." — There have been extremely limited studies that aren't scientifically significant, neither of which show the drug to be "100% effective." One of the studies showed no benefit at all from the treatment.

"Michigan Democrat Governor Gretchen Whitmer is the latest Democrat to ban doctors from prescribing the lifesaving drugs hydroxychloroquine and Z-Paks to save senior citizens in the state." — Like many states, Michigan is warning prescribers not to hoard the medications for themselves by improperly self-prescribing.

It's literally the first sentence in the warning letter:

The Department of Licensing and Regulatory Affairs has received multiple allegations of Michigan physicians inappropriately prescribing hydroxychloroquine or chloroquine to themselves, family, friends, and/or coworkers without a legitimate medical purpose.
BUT, they definitely allow that kinda crap to flow freely if it's coming from China. You either apply the same standard to all, or let the crap flow freely.