I remember when Obama first got elected.
No major comedian would even make jokes about him and big media companies certainly wouldn't have dared write storylines that involved assassinating him.
But that is akin to what happened on a CBS primetime show. Not only did they write these words "Assassinate President Trump" into their storyline, which apparently went unnoticed when the show first aired, but they then tweeted out a screenshot for all to see. After controversy ensued, they deleted the tweet.
Here's more:
DEADLINE – CBS All-Access' The Good Wife spinoff series, The Good Fight, tweeted an image Friday from its episode The One Where Diane Joins The Resistance, showing a list of "target words." Topping the list are the words, "Assassinate," "President" and "Trump" in the red column, while leading the second, orange column are "Eliminate" and "Mar-a-Lago."

The tweet, which did not provide context for the list, asked viewers if they spotted the Easter egg. Likely because "Assassinate President Trump" is the first thing one reads scrolling down, many Twitter users were not amused, some of them threatening to contact the Secret Service. In fact, we've learned that the easter egg reference was to Kalinda, a poplar character from The Good Wife, whose name is in the second column. The tweet has since been deleted.
Here's the screenshot: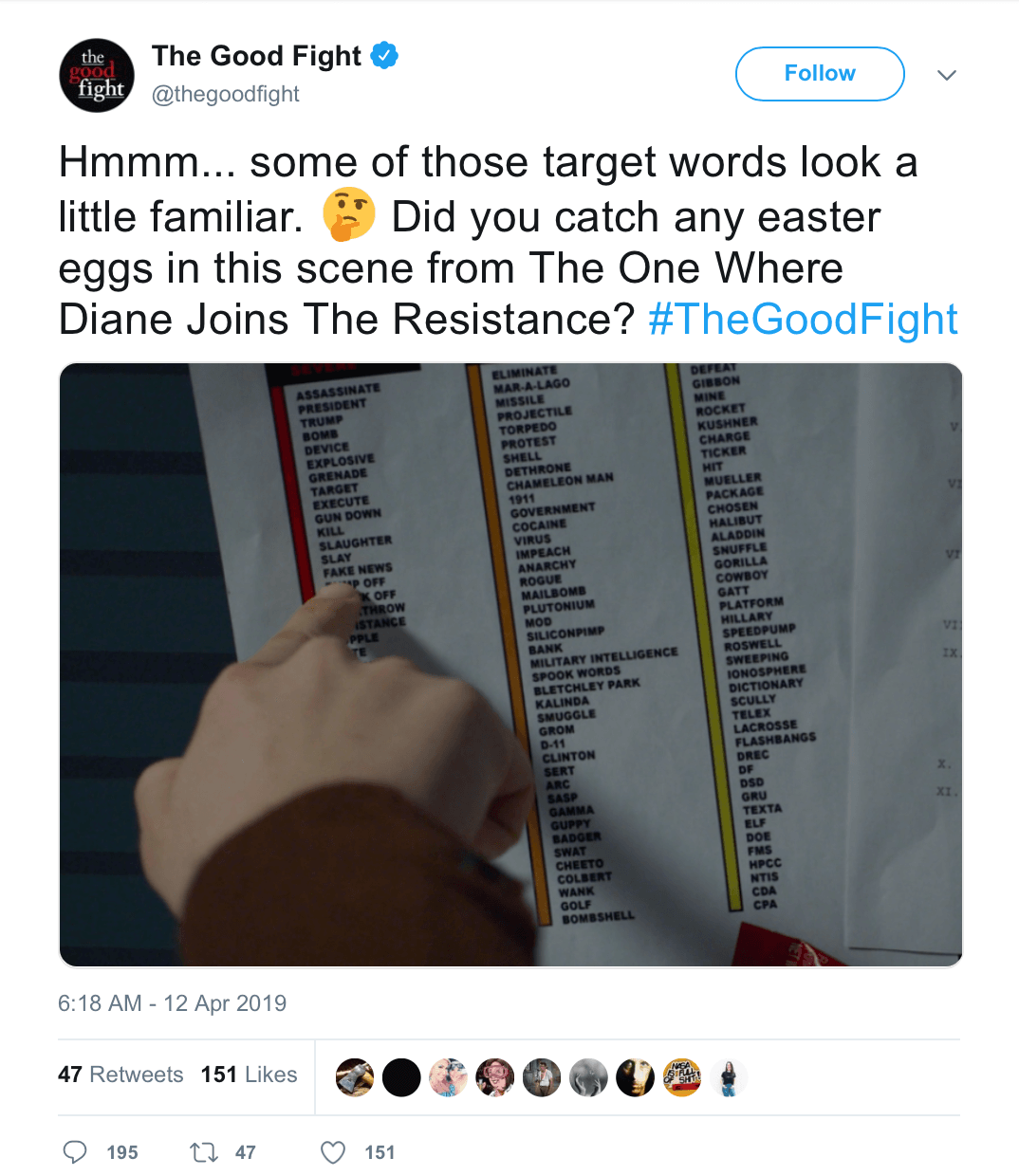 Deadline continues to explain the context:
The episode that contained the image revolved around Diane (Christine Baranski) joining a female resistance group focused on dragging down President Trump's approval ratings.

Her phone communications with members of the group were intercepted by the NSA analysts, Stephen (Michael Urie) and Dev (Maulik Pancholy), fan favorites from The Good Wife.

"Diane, she just used five target words in one sentence," one of the researchers says, before quickly dragging his finger over "Assassinate," "President" and "Trump", until it stops at "Fake News".

The referenced by the analyst five "target words" on the list, organized in different color columns by thread level, were "Trump," "Die," "Fake News," "Resistance" and "Pizza Gate."

In the episode, the list takes a second or so of screen time, which explains why it did not get any attention when the episode premiered on March 28. However, the freeze frame of it with the instruction to look for an Easter Egg sent people in the wrong direction.
The fact that this didn't get much attention when it aired speaks to the low prominence it was given on the show, which is a good thing.
But it was totally a boneheaded move to then tweet this out on social media. It's almost as if someone on the show wanted people to see it because it went virtually unseen the first time.
And given just how much Hollywood and the left hates Trump, it wouldn't surprise me if that was indeed the motivation.