This is a poll that should make Democrats panic – Trump's approval is way up and his disapproval rate is way down. From ABC News:
Forty-four percent now approve of Trump's performance in office; 51% disapprove, maintaining his position as the first president in modern history never to achieve majority approval. That said, bolstered by the economy, his approval is up 6% since late October, with disapproval down 7 points to a new low.
It has some bad news for Trump – it says two thirds of Americans want to see witnesses in the Senate trial:
Two-thirds of Americans in a new ABC News/Washington Post poll say the U.S. Senate should call new witnesses at Donald Trump's impeachment trial, and the public is divided on his removal from office – even as Trump's approval rating has rallied to match his career high.
Look at this graph, like Nickleback says: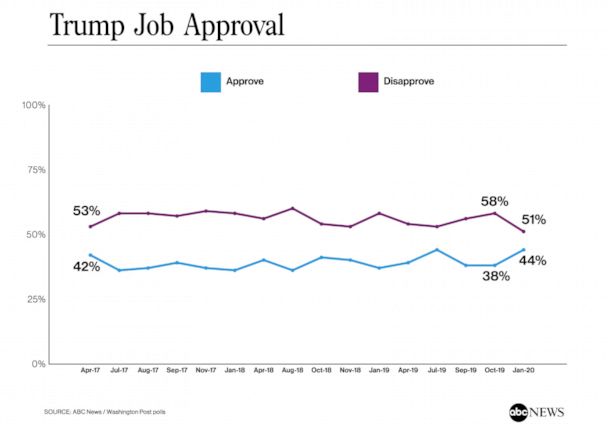 It would be better if he was above the halfway mark, but what does it say about the Democrats' case if his approval is zooming up and disapproval is zooming down in recent weeks? Nothing good, trust me…
UPDATE:
This one is important too. While many more Americans want to see new witnesses, more want to see Trump stay in office than those that want him removed.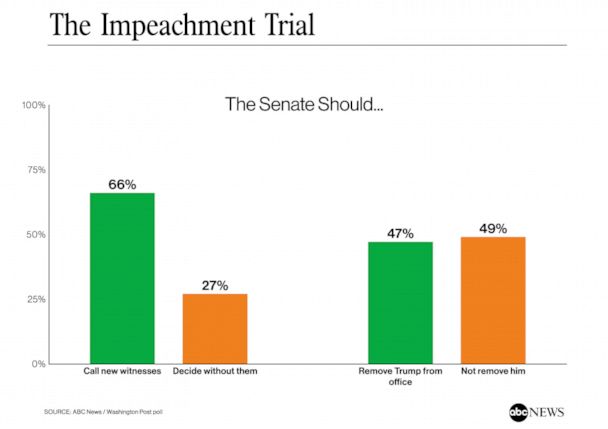 Mhmmmm.